Golden Opportunity at Signature
03 October 2014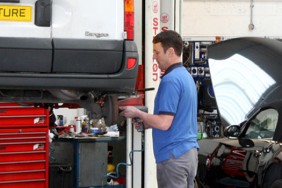 Don't miss out on the latest incredible offer from Signature that includes a Full Gold Service of your vehicle for less than £200.
For £199, our expert technicians will literally get under the hood of your vehicle and check everything from the exhaust system to the suspension springs. We will also take a detailed look at the engine and oil levels to ensure your vehicle abides by current safety standards as well as checking the operation of all seat belts.
We use the latest diagnostic equipment to make any necessary repairs, but that's not all…
For absolutely free of charge, we will fully replace the brake fluid in your vehicle which is a service we usually price at £29.99. It really is a deal worth taking advantage of and our team will ensure you are completely satisfied with all aspects of the service before you drive away.
If you would like to make the most of the Full Gold Service offer from Signature then please use our online booking form to schedule a time and date with us, or contact us on 01772 634488 or email info@signatureautocare.co.uk.
Back to overview